"The Italians are unrivalled in flamboyance, sex scandals and financial improprieties. Now you can be too!"
―Southern San Andreas Super Autos description.
The Infernus is a supercar that was first introduced in Grand Theft Auto III and has appeared in every GTA title since (except Grand Theft Auto Advance) and has gained a reputation for being one of the oldest sports cars to still be in a vast number of GTA titles. It is manufactured by Pegassi in the HD Universe.
"Extremely expensive. How can we expense one of these? Only those idiots in undercover get to drive these."
―GTA Vice City Website.
Between Grand Theft Auto III and Grand Theft Auto: Vice City Stories, the Infernus has appeared in three different forms, each illustrating the car as a sleek, low-profile sports car comparable to the Cheetah.

In Grand Theft Auto III and Grand Theft Auto: Liberty City Stories, it is a cross resemblance between a Jaguar XJR-15 and a XJ220.
In Grand Theft Auto: Vice City and Grand Theft Auto: Vice City Stories, it closely resembles a Lamborghini Countach, but lacks the characteristic swing-up doors, and features bulged headlights and rounded tail lights.
In Grand Theft Auto: San Andreas, the Infernus strikingly resembles the first generation Honda NSX and Cizeta-Moroder V16T, which is the original design of the Lamborghini Diablo prototype before it was changed by Chrysler. Its front bumper and rear bumper both resemble the Chevrolet Corvette Coupe Export Model. Although the Infernus' design suggests an RMR layout in GTA III and GTA Liberty City Stories, its engine is visible under the front hood, possibly due to limitations of the game engine. The GTA Vice City and GTA Vice City Stories renditions reposition the engine to the back, as the front compartment is revealed to be the trunk. The GTA Vice City Infernus, however, still emits smoke from the front when damaged. The GTA San Andreas Infernus stays in a front mounted engine, all wheel drive layout.

In GTA San Andreas, the Infernus can be modified at any TransFender modification garage.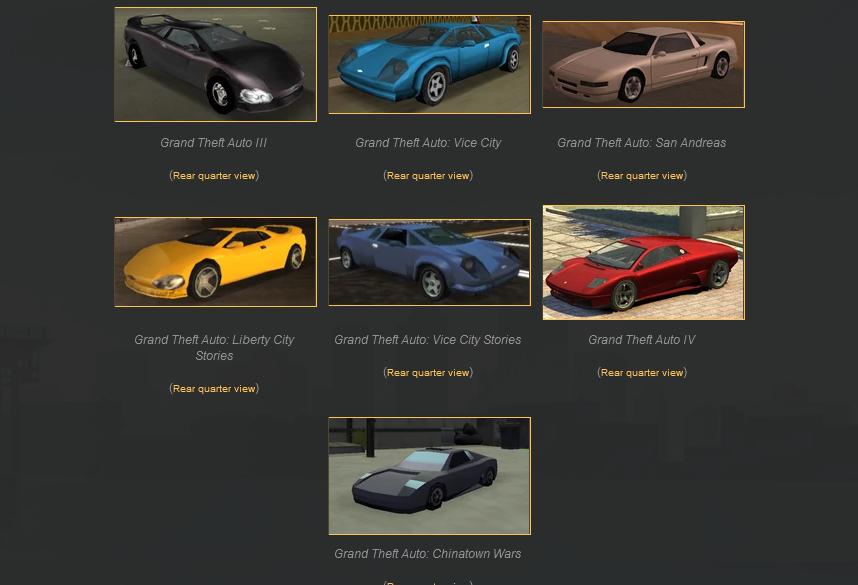 Community content is available under
CC-BY-SA
unless otherwise noted.