(Adding categories)

 

Line 12:
Line 12:
 

* Spawns in the streets of Liberty City.

 

* Spawns in the streets of Liberty City.

 

** It is featured in the mission Gangsta Bang - Bulldog: the player has to drive one to Lafferty's respray shop with maximum wanted level, then to Dalgetti's garage. The Challenger is also featured in the mission Heist Almighty - Mundano: the player has to hijack and take it to Coffey's garage, with drugs in the trunk.

 

** It is featured in the mission Gangsta Bang - Bulldog: the player has to drive one to Lafferty's respray shop with maximum wanted level, then to Dalgetti's garage. The Challenger is also featured in the mission Heist Almighty - Mundano: the player has to hijack and take it to Coffey's garage, with drugs in the trunk.

 
+

[[Category:Vehicles]]

 
+

[[Category:Vehicles in GTA 1]]

 
+

[[Category:Muscle Cars]]
---
Latest revision as of 15:21, 6 May 2020
The Challenger is a muscle car featured in the first Grand Theft Auto.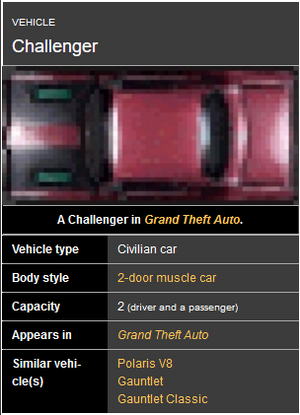 The Challenger is based on the Plymouth Roadrunner, but its name is derived from the Dodge Challenger.
It has relatively good speed and handling, and moderate durability.
Spawns in the streets of Liberty City.

It is featured in the mission Gangsta Bang - Bulldog: the player has to drive one to Lafferty's respray shop with maximum wanted level, then to Dalgetti's garage. The Challenger is also featured in the mission Heist Almighty - Mundano: the player has to hijack and take it to Coffey's garage, with drugs in the trunk.
Community content is available under
CC-BY-SA
unless otherwise noted.