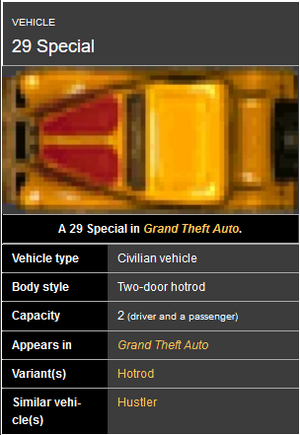 The 29 Special is a two-door hot rod in the first Grand Theft Auto.
The 29 Special appears to be based on a heavily customized 1929 Ford Model A, hence the "29" in its name.
As expected of a hot rod, the 29 Special has a decent top speed but poor handling, with reasonable durability.
Can be found in Vice City. It is featured in two missions. In mission Bent Cop Blues - Phone 11, the 29 Special is a target car; before its destruction, it is drivable. In mission Rasta Blasta - Phone 7, the player has to protect a parked, undrivable one from Babylon agents.
Community content is available under
CC-BY-SA
unless otherwise noted.